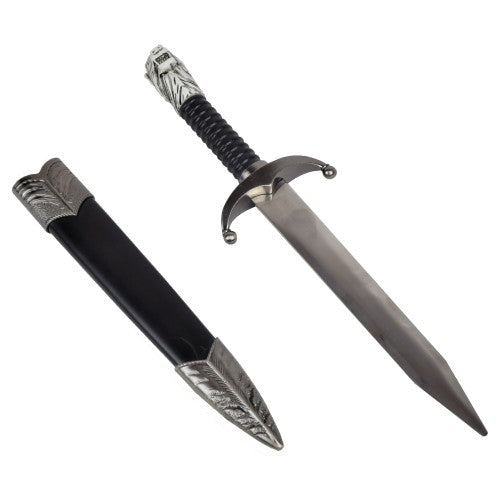 Longclaw Sword by Jon Snow as Dagger-Game of Thrones
---

This unique fantasy dagger is inspired by Jon Snow's sword from the award-winning series Game of Thrones. Jon Snow, one of the key characters in the series, is known for his bravery and his adventures beyond the wall.

This decorative fantasy dagger pays homage to Jon Snow and his epic adventures. The blade is made of sturdy steel and shows a distinctive and sharp look, while the handle is crafted from a deft combination of polymer and metal. The elaborately designed sheath complements the design perfectly and gives the dagger an authentic atmosphere.

With an impressive blade length of 170mm and a total length of 280mm (or. 310mm with the sheath), this dagger is an imposing addition to any collection. Despite its imposing appearance, it weighs only 120g (or. 170g with the scabbard), which makes it easy to handle.

Whether as a collector's item, for decoration or as part of your cosplay outfit-this dagger will make the hearts of Game of Thrones fans beat faster. Get this impressive dagger and dive into the fascinating world of Westeros and Jon Snow's adventures.