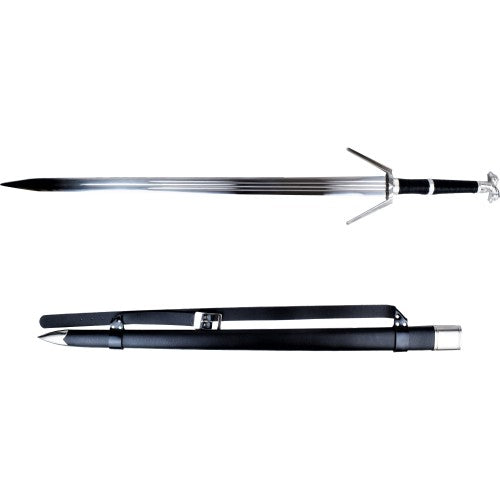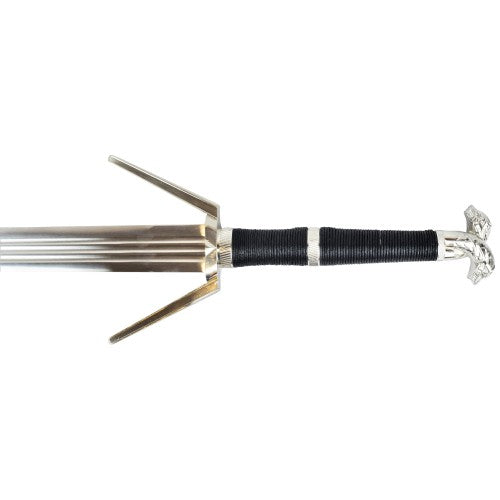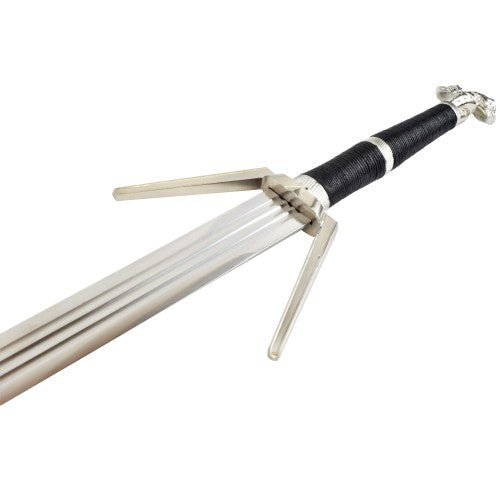 Riva Two-Hand Silver Sword-The Witcher
---

Take a journey through the world of "The Witcher 3: Wild Hunt" with the Serpentine Silver Sword.

This impressive fantasy sword is inspired by Geralt von Riva from the popular video game series "The Witcher". It is a collector's item that embodies the elegance and style of the famous Witcher.

Properties :

-Metal handle with rope sheath: The handle of this sword is carefully designed and features a metal ornament with rope sheathing, giving it a rustic and authentic look.

-Leatherette sheath with belt: The Serpentine Silver Sword comes with a high-quality Leatherette sheath that can be worn on the belt. This makes it not only a collector's item, but also a practical accessory.

-Total length 1155mm : This sword has an imposing overall length that makes it an impressive exhibit piece.

-Blade length 895mm: The blade of this sword is designed to be true to detail and has the perfect length to accentuate the splendor of the Serpentine Silver Sword.

-Weight 1580g : Despite its size, this fantasy sword is light enough to be worn or displayed comfortably.

A must for all fans of "The Witcher", the Serpentine Silversword is an impressive collectible that captures the essence of this popular video game series. Get this fantastic sword now and show your passion for the world of Geralt of Riva.