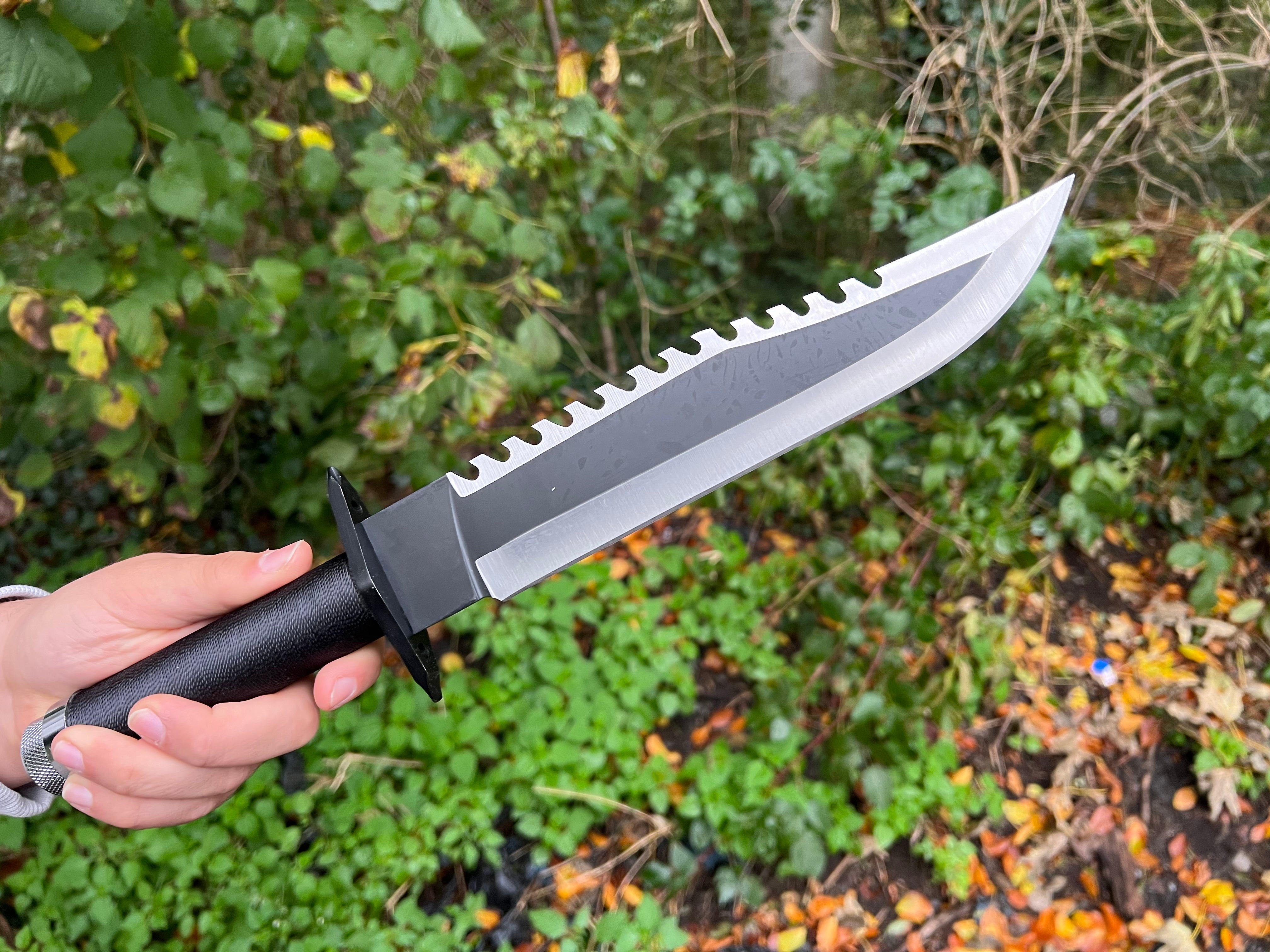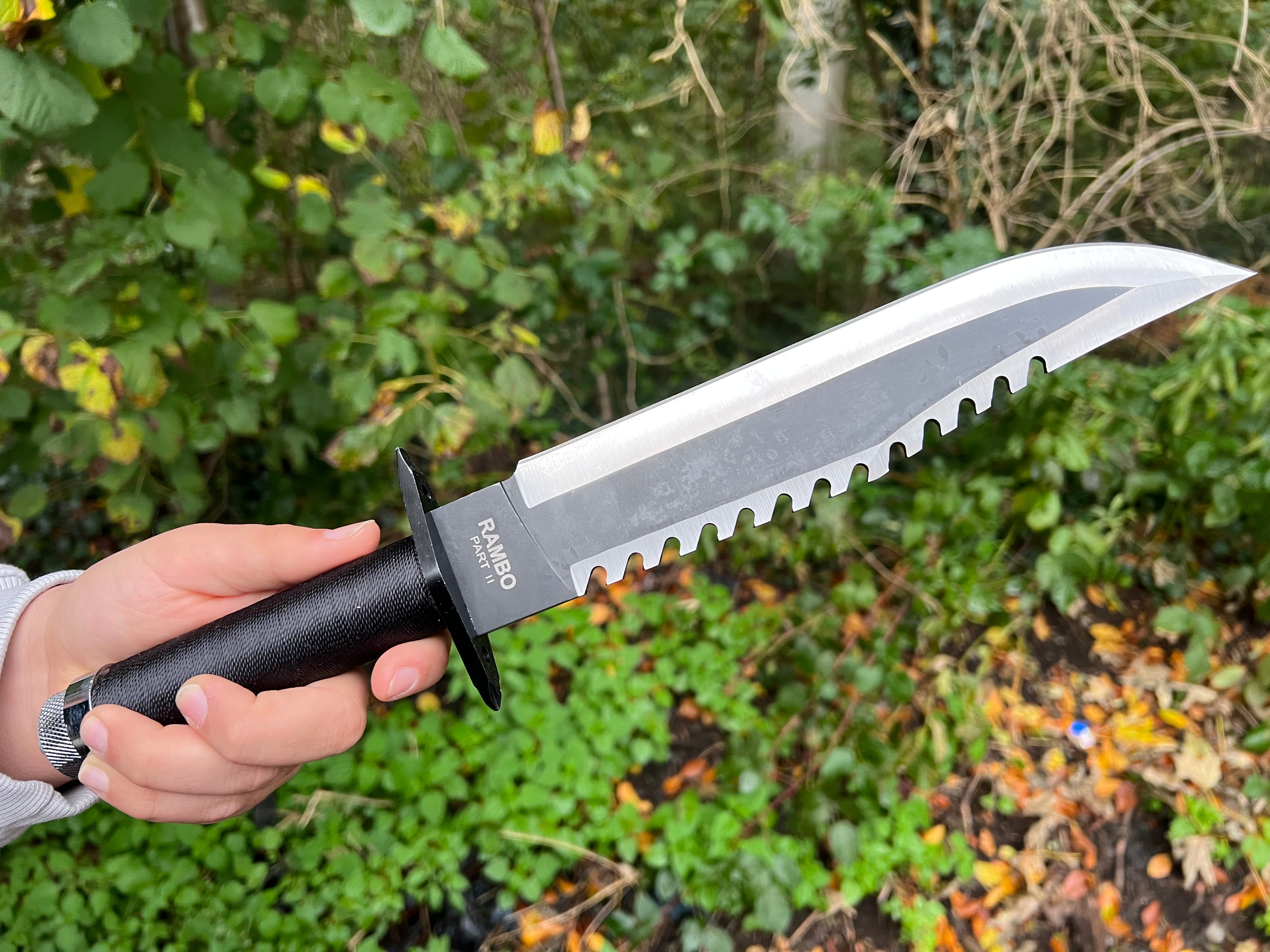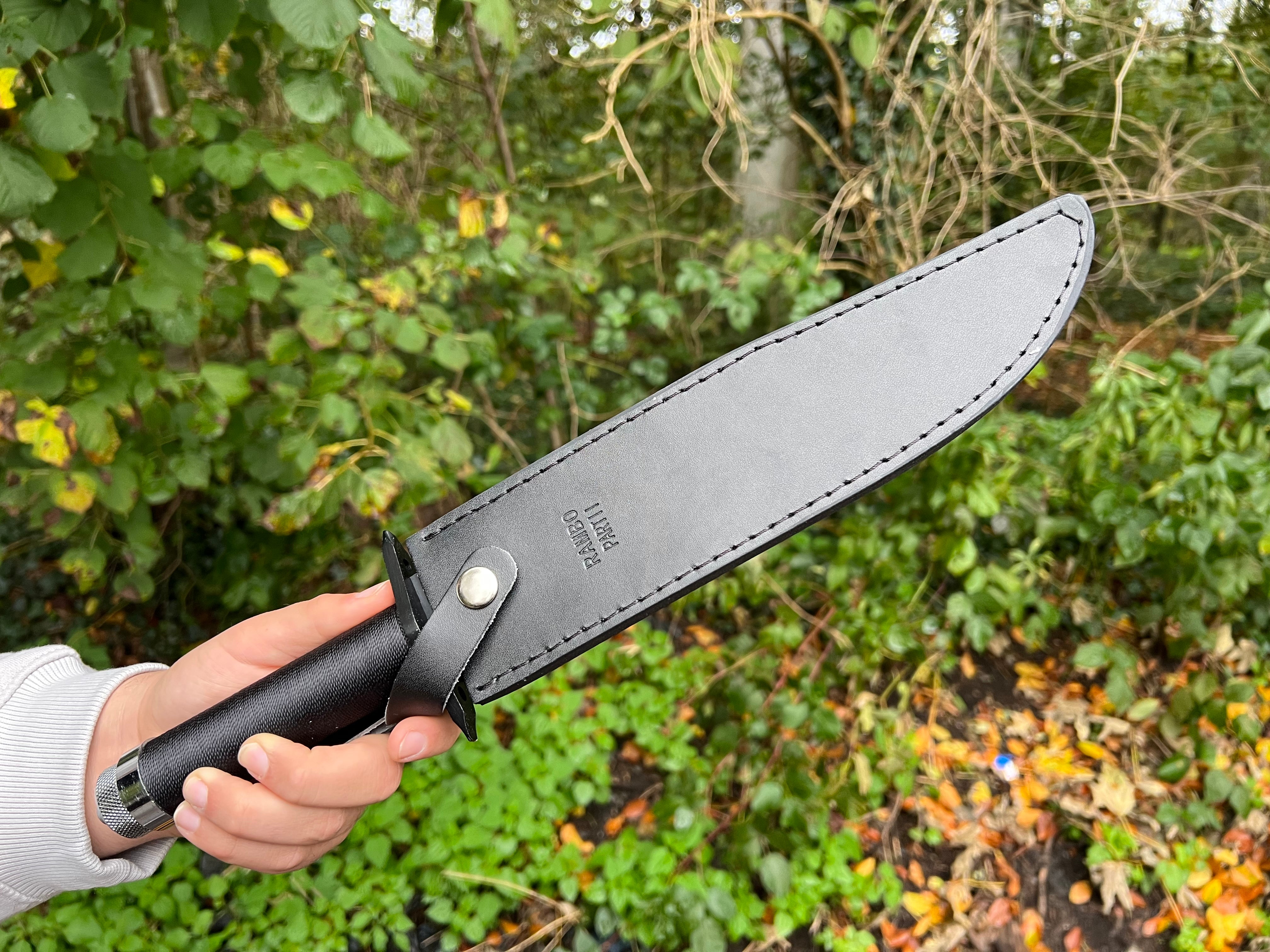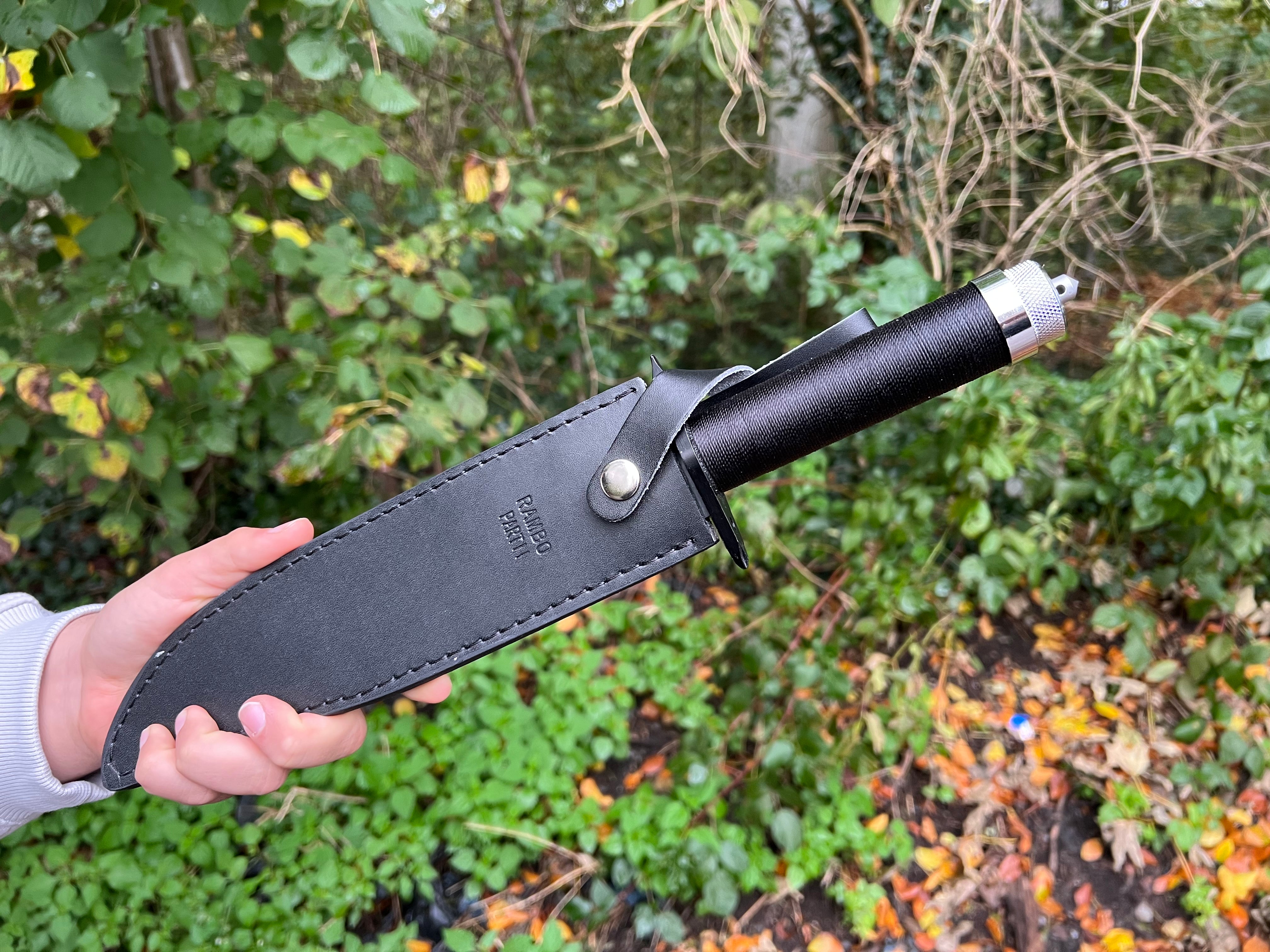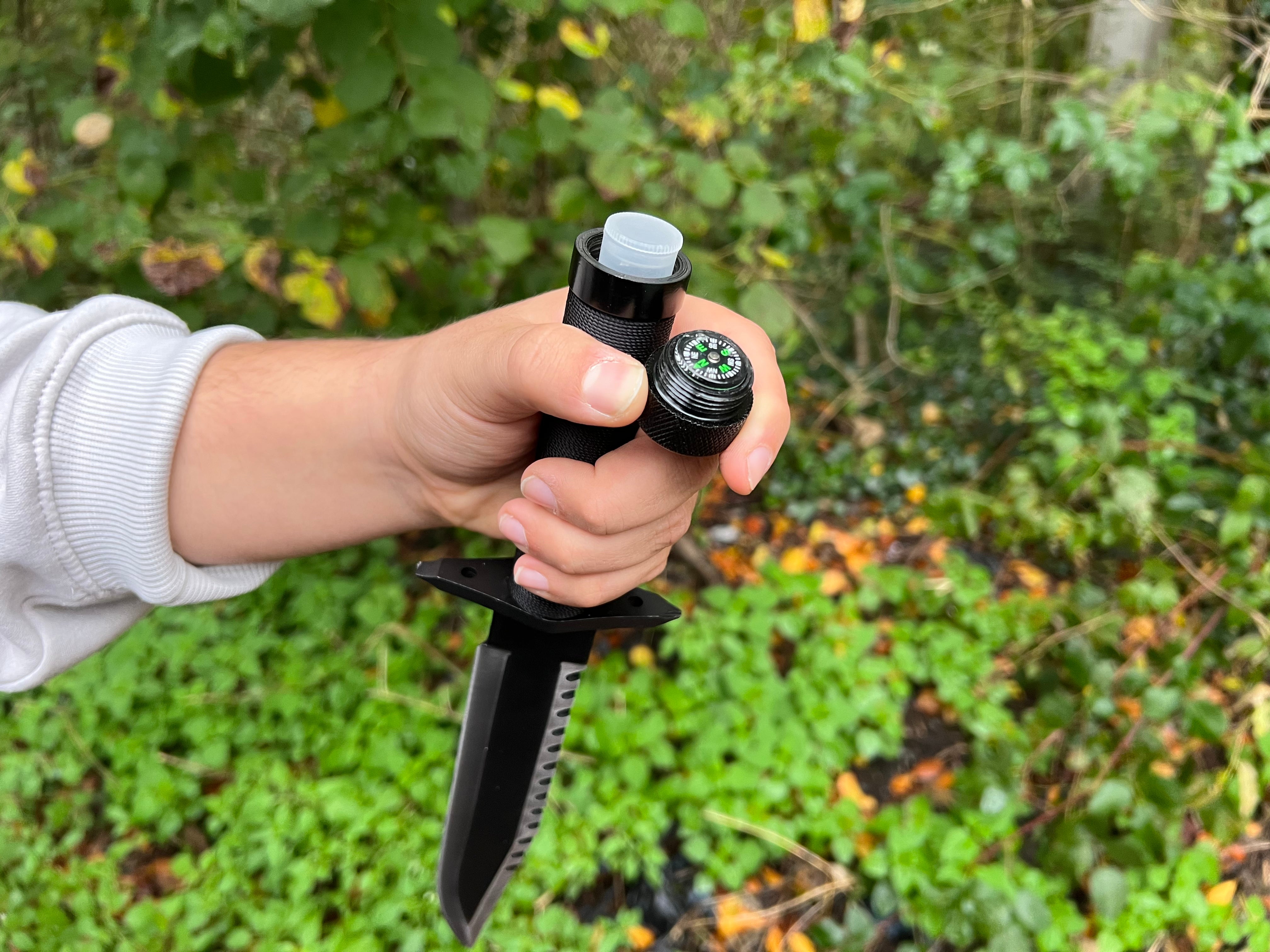 John Rambo's ready-to-fight hunting knife-Rambo 2
---
This Rambo II hunting and survival knife, inspired by the iconic design from the classic "Rambo II" film, is the ultimate addition to any outdoor gear and collection of movie props. With its impressive steel blade and mini survival kit integrated into the handle, this knife is a real workhorse in terms of survivability and bushcraft.
Product Features:
Powerful steel blade: The 250mm long blade offers superior cutting power and is ideal for a variety of wilderness tasks.

Handle with survival kit: The Cordura-covered metal handle houses a mini survival kit, including a compass, a fishing hook, five matches and a patch.

High Quality Sheath: Comes with a durable lederette sheath that can be effortlessly attached to your belt, ensuring quick access and safe transport.
Technical Specifications:
Blade material: High performance steel, designed for durability and long-lasting sharpness.
Handle: Robust metal handle, sheathed by durable Cordura with an integrated survival kit.
Sheath: Practical and stylish lederette sheath with belt loop.
Blade length: 250mm-for precise work as well as for robust inserts.
Total length: 400mm (415mm with scabbard)-excellent balance and handling.
Weight: 560g (650g with scabbard)-stable and reliable for all conditions.
The Rambo II Hunting and Survival Knife is not only an essential tool for survival enthusiasts, but also a coveted collector's item that captures the essence of the famous movie hero. Pack it for your next outdoor adventure or place it prominently in your collection-this knife is sure to impress.
The knife is also licensed
This product is sharpened and is pointed. When purchasing, an age verification is required before shipping, as the purchase is only permitted from the age of 18.