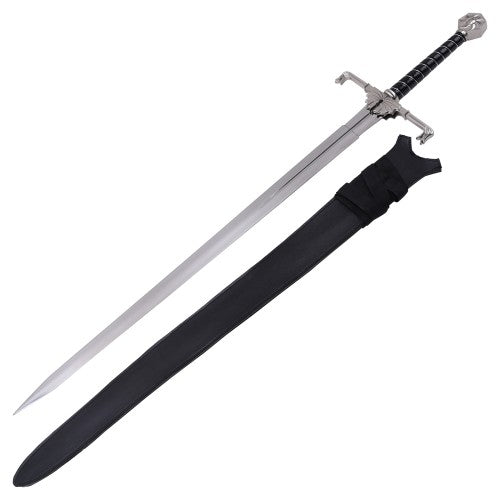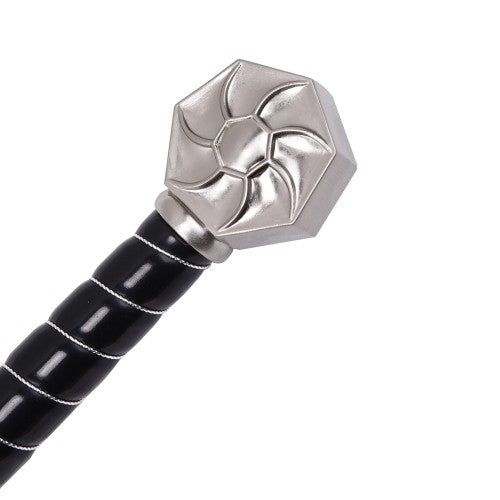 Aegon I Targaryen's Blackfyre Schwert - House of the Dragon
---
This fantasy sword pays homage to the legendary Blackfyre sword that was once led by Aegon I Targaryen in the "House of the Dragon" TV series. It is a stunning work of art that reflects the power and splendor of the Targaryen dynasty.

** Merkmale:**

-** Steel Blade: ** The blade of this sword is made of high quality steel and is carefully designed to capture the essence of the Blackfyre sword.

-** Metallic Par Bar and Knob: ** The Par Bar and Knauf are made of metal and decorated with elaborate details reminiscent of the dragon, the symbol of the Targaryen.

-- ** Imitation leather sheath: ** The sword comes with an elegant imitation leather sheath that rounds off the big picture of this evocative swords.

-** Total length of 1190mm:** With its impressive overall length, this sword is an eye-catcher and an impressive collector's item.

-** Blade length of 860mm:** The blade is long enough to underline the impressive splendor of this sword.

This fantasy sword, inspired by Aegon I Targaryen's Blackfyre sword from "House of the Dragon", is an absolute must for fans of "Game of Thrones" and the world of Westeros. Get this impressive work of art and immerse yourself in the history of the Targaryen dynasty and its legendary swords.